Biography
(History of the World: The 19th Century)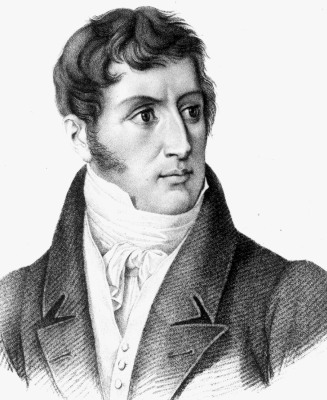 Article abstract: Among his writings in various genres, Manzoni authored the great Romantic historical novel The Betrothed, an acknowledged world masterpiece and much-beloved expression of Italian culture that contributed to the unification of Italy and to the Italian language.
Early Life
Alessandro Manzoni was born into the aristocratic liberal circles of late eighteenth century Milan, which, influenced by the Enlightenment, was the leading political and intellectual center of preunification Italy. His maternal grandfather was Cesare Beccaria, an economist and jurist whose lectures anticipated the theories of Adam Smith and Thomas Robert Malthus and whose influential work Dei delitti e delle pene (1764; An Essay on Crimes and Punishments, 1767) reformed thinking on penology. Beccaria introduced the modern view that punishments should be for the purpose of protecting society, not for taking vengeance on criminals. Among Beccaria's close friends were such writers as Giuseppe Parini and the brothers Pietro and Alessandro Verri. The young Manzoni idolized his grandfather and his grandfather's friends, who provided him with role models and a liberal outlook.
Young Manzoni seriously needed such role models, since his parents took little interest in his upbringing. His mother, Giulia Beccaria Manzoni, unfortunately resembled her mother, Teresa de' Blasco Beccaria, a lovely but scandalous lady who caused discord between Cesare Beccaria and his family and friends and who finally died of venereal disease. Young Giulia became involved in an affair with Giovanni Verri, the pleasure-seeking younger brother of Pietro and Alessandro Verri. In an attempt to end the affair, Pietro Verri arranged her marriage to Pietro Manzoni, a stolid middle-aged member of the Lecco landed gentry. The marriage was a disaster from the beginning, but then young Manzoni was born (no one is sure whether Pietro Manzoni or Giovanni Verri was his actual father). With no talent or taste for motherhood, Giulia farmed him out to a wet nurse, a peasant woman who cared for him in her home. Eventually, Giulia and Pietro Manzoni separated, and Giulia fled to London and then Paris with a rich Milanese banker, Carlo Imbonati.
Manzoni spent his childhood and youth in a series of boarding schools. From 1791 to 1798, he attended schools in Merate and Lugano run by the Somaschi friars, and from 1798 to 1801 he was at schools in Magenta and Milan run by the Barnabite fathers. A sensitive child, he longed for his mother (he and Pietro Manzoni never cared for each other), endured the bullying of headmasters and other students, and led a miserable existence. Besides reducing him to a shy, withdrawn individual prone to assorted lifelong paranoias, one notable result of his religious schooling was to turn him into a youthful atheist. When he was sixteen, Manzoni's formal education ended, and he moved into a Milan townhouse with an aunt (a former nun), who introduced him to a life of dissipation, which included gambling and women. At the age of sixteen, Manzoni also wrote his first surviving verse, including the unpublished four-quarto poem "Il trionfo della Libertà" ("The Triumph of Liberty").
In 1805, his mother and Carlo Imbonati invited him to join them in Paris, but before Manzoni arrived, Imbonati died, leaving Manzoni's mother a fortune. While Manzoni consoled her, she introduced him to the literary salons of Paris. There Manzoni absorbed the brilliant conversations of writers, philosophers, and politicians that, combined with his avid reading of French literature, made him extremely fluent in French. He became friends with a number of French intellectuals, particularly the literary and historical scholar Claude-Charles Fauriel, who remained a lifetime friend and correspondent. Gradually, however, events began to occur that would draw Manzoni away from Paris. In 1807, Pietro Manzoni died, leaving...
(The entire section is 1,994 words.)