Abraham Lincoln Biography
Abraham Lincoln (1809–1865) is widely regarded as one of America's greatest heroes and one of its sharpest political minds. Born into frontier obscurity and raised in a log cabin, Lincoln rose quickly in society from a backwoods rail-splitter to a militia captain in the Blackhawk War. Later, his law career led him into politics and he entered the public spotlight in a U.S. Senate race that centered on the future of slavery in America. Lincoln went on to become the first Republican president and his election led to Southern secession and the Civil War. A shrewd politician, Lincoln managed to lead the North to victory and laid the foundation for the abolition of slavery, but he would not live to see his country reunited. He was assassinated by John Wilkes Booth at Ford's Theater, five days after Robert E. Lee surrendered. 
Facts and Trivia
In 1860, Lincoln became the first Republican candidate for U.S. president.
After the battle of Antietam in 1862, Lincoln issued the Emancipation Proclamation, which freed the slaves in the states that were still in rebellion on January 1, 1863.
In November 1863, Lincoln delivered his "Gettysburg Address" at the dedication of the national cemetery in Gettysburg, Pennsylvania.
Lincoln first appeared on the $5 bill in 1914.
Lincoln lost all but one of his young children during his tenure in office and suffered bouts of deep depression throughout his presidency.
He remains the only president to have held a patent. It was for a device that would help free steamboats when they ran aground.
He approved the Yosemite Grant which provided federal protection for what is now Yosemite National Park.
Lincoln is the president who established Thanksgiving as a national holiday, which had previously been a regional New England holiday.
Biography
(History of the World: The 19th Century)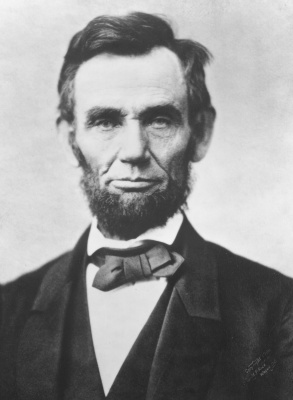 Article abstract: Lincoln is generally considered to have been the outstanding figure responsible for the preservation of the federal Union.
Early Life
Abraham Lincoln was born February 12, 1809, on the Sinking Spring Place, a farm three miles south of Hodgenville, Kentucky. His mother was the former Nancy Hanks, and his father was Thomas Lincoln, both natives of Virginia whose parents had taken them into the Kentucky wilderness at an early age. Thomas Lincoln was a farmer and a carpenter. In the spring of 1811, they moved to the nearby Knob Creek Farm.
The future president had a brother, Thomas, who died in infancy. His sister, Sarah (called Sally), was two years older than he. Much has been made in literature of his log-cabin birth and the poverty and degradation of Lincoln's childhood, but his father—a skilled carpenter—was never abjectly poor. The boy, however, did not aspire to become either a farmer or a carpenter. A highly intelligent and inquisitive youth, he considered many vocations before he decided upon the practice of law.
In Kentucky during his first seven years, and in Indiana until he became an adult, Lincoln received only the rudiments of a formal education, about a year in total. Still, he was able to read, write, and speak effectively, largely through self-education and regular practice. He grew to be approximately six feet, four inches tall and 185 pounds in weight. He was angular and dark-complected, with features that became familiar to later generations.
Moving with his family to Spencer County, Indiana, in December, 1816, Lincoln learned to use the American long ax efficiently on the Pigeon Creek Farm, where his father constructed another simple log cabin. He grew strong physically, and, largely through books he was able to borrow from neighbors, he grew strong mentally as well. The death of his mother from "the milk sick" in the summer of 1818 left both the boy and his sister emotionally depressed until the arrival of their stepmother, Sarah Bush Johnston Lincoln, from Elizabethtown, Kentucky. This strong and resourceful widow brought love and direction back to Lincoln's...
(The entire section is 2,488 words.)