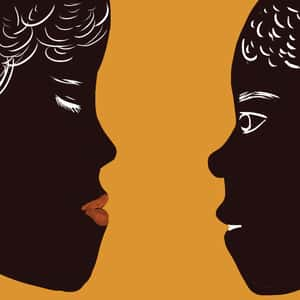 The Life and Work of Zora Neale Hurston
Zora Neale Hurston was born in Eatonville, Florida. Her exact birthdate is unknown, but the most reliable sources put it at either 1891 or 1901. She was the daughter of John Hurston, a Baptist preacher, and Lucy Potts Hurston, a schoolteacher. Zora was the fifth of eight children, and in her autobiography, Dust Tracks on a Road, Hurston fondly remembers growing up in an eight-room house with two big chinaberry trees shading the front gate. Eatonville was a self-governing, independent, all-black town. Her father was mayor for three terms and helped codify the town laws. Hurston grew up believing that blacks were equal, if not superior to whites, and was very proud of her heritage. Hurston used her hometown as a basis for the fictional Eatonville in Their Eyes Were Watching God and even borrowed some real names for her characters.
Hurston came to New York in 1925 after receiving an Associate's Degree from Howard University. While at Howard, she was accepted into the prestigious campus literary group and published her first story, John Redding Goes to Sea, in the campus magazine in 1921. In 1925, she submitted Drenched in Light to Opportunity magazine in New York, and it became her first nationally published piece. She then came to New York to continue her literary career. Hurston received a scholarship to Barnard and was its only black student; she graduated in 1928.
While at Barnard, Hurston developed an interest in anthropology. She studied for years and received several fellowships and grants. Her field of interest was folklore, and she used that extensively in her writings, always seeking to fuse folklore and fiction. Their Eyes Were Watching God was written in seven weeks while she was in Haiti working on a book about voodoo.
Hurston was one of the leading writers during the Harlem Renaissance, a period during the 1920s and 1930s when black writers came to the forefront of popular American culture. They were trying to repudiate the stereotypes of blacks in literature by bringing an individual character's consciousness to life. Through her associations with Opportunity, Hurston quickly became a popular guest at fashionable New York literary parties and became very friendly with Langston Hughes and other notable black writers.
Unlike many of her contemporaries, Hurston was nonpolitical and believed in art for art's sake. She wanted to express black folklore, which had long been rejected as a product of slavery, and bring it to a wider audience. In addition to her novels, Hurston wrote a play, an opera, several articles, and two anthologies of folklore. Her most famous article was called How It Feels to be Colored Me, published in 1928.
Their Eyes Were Watching God, published in 1937, was Hurston's third novel. Sadly, the novel received mostly indifferent reviews when first released, including reviews by notable contemporaries. Many of her peers, such as Richard Wright, criticized the novel's lack of social relevance. They felt that the book was not pertinent in what Mary Helen Washington called "a decade dominated by Wright and by the stormy fiction of social realism." Angered by the negative reviews, she began traveling again, and at the request of her publisher, wrote her autobiography in 1942. Her last novel, published in 1948 and called Seraph on the Swanee, was fueled by this anger and was about whites, not blacks. She felt she would be less open to criticism. Around the same time, Hurston was arrested and falsely accused of a morals violation. Although the charges were dismissed, she was demoralized and sick, and retreated to Florida. She spent the last years of her life in poverty, working in various odd jobs.
Zora Neale Hurston died on January 28, 1960. After her death, her books enjoyed a popular revival, partly due to the efforts of Alice Walker, who was greatly influenced by Hurston. Walker also edited and released a collection of Hurston's works. Today, Hurston remains one of the most influential black writers in America.
More Content: Summary
(hide)