Quizzes
Test Your Knowledge.
eNotes offers quizzes designed to test your knowledge on thousands of literature, history, science, and math topics. Check what you know in everything from Animal Farm to Wuthering Heights.
10 questions by

Question 1
What is Kevin's primary mode of transportation during the summer?
Create a Quiz
eNotes Educators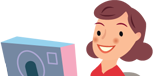 Are you a teacher or graduate student? We're looking for your expertise. Get paid to contribute on eNotes.
Learn More »